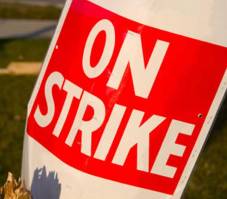 Strike Support
Tactical Support Services, a division of Investigative Solutions, LLC provides professional services and security devices to clients during crisis situations. Our objective is to allow the client to conduct business during times of high risk, such as labor unrest, strikes and potential workplace violence.
Our staff of highly trained and qualified professionals will not become the issue during times of labor unrest.
Experienced consultants will help your staff prepare a comprehensive strike plan designed to your specific needs. Team members will know their role, and tactical strike officers will manage events rather than react to them.
Once your specialized team is assembled, Investigative Solutions, LLC Strike Support will implement contingency briefings to allow for continuity of site responsibility.
Investigative Solutions, LLC Strike Support provides certainty in a potentially disruptive environment.
Investigative Solutions, LLC provides trained personnel in:
Picket Line Procedures
Documentation Teams
Rapid Response Teams
Executive Protection
Evidence Coordinator / available to testify in court to all and any infractions of local, state, federal laws
Command Post Operations
Site Coordinator / Site responsibility
Strike Officers – Trained in Labor Unrest
Liaison between local Law Enforcement
Investigative Solutions, LLC provides outside auditing of existing strike coverage from third party vendors. With this approach, the client is secure in knowing that those man hours billed are actual and not an oversight by the security provider. Our staff provides real time cost indicators to assist your staff in any oversight in costs and or adverse billing affects.
Adverse Billing – when you have questions and concerns about your billing from a company that promised you one rate and now it's ballooned to over 4 times the anticipated cost. One of the most reoccurring questions is why do we need so many guards and nothing is going on? Why is billing so out of control and you are "locked in" with this agency and need to make sure you're truly secure? Contact Investigative Solutions Strike Support Division and speak with one of our team members to discuss plans of action and programs available for your specific concerns, to address out of control billing and to schedule an assessment of your facility.
If you don't see the service you require, contact our office. We can usually provide an alternative service that will produce the results you need, or in some cases, we may refer you to one of our nationwide associates who provides the service you need.
Call (800) 774-0640 now
or submit the form on this page for a FREE consultation!